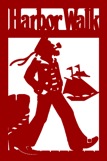 Built in the early 1980's within the larger Otterbein neighborhood, the Harbor Walk homes are designed to complement the style of the historic properties. The 100 Harbor Walk houses line several blocks of South Hanover Street and a few cross streets.
The HWTA has developed a summary document for residents:
HWTA Essentials (pdf 105.3 KB)
Additional information is provided on this website.